Skip to Content
Water Heater Experts
Redfin Plumbing is the premier plumbing service in Houston, TX. Water heaters are vital to a functioning home. You might be tempted to fix your water heater on your own, but attempting to repair your water heater on your own could cost you thousands.
Even worse, fixing your water heater on your own could lead to serious physical injury and harm. Toxic chemicals, high-voltage electricity, and flammable gas lines are integral components to the functioning of a water heater but handling them on your own increases the risk to your home, health, and life.  If you're having issues with your water heater, leave it up to us to evaluate and fix the problem. Our professionals have the years and expertise necessary to safely repair or replace your old water heater and carefully install a new one. We place your family's safety as our top priority.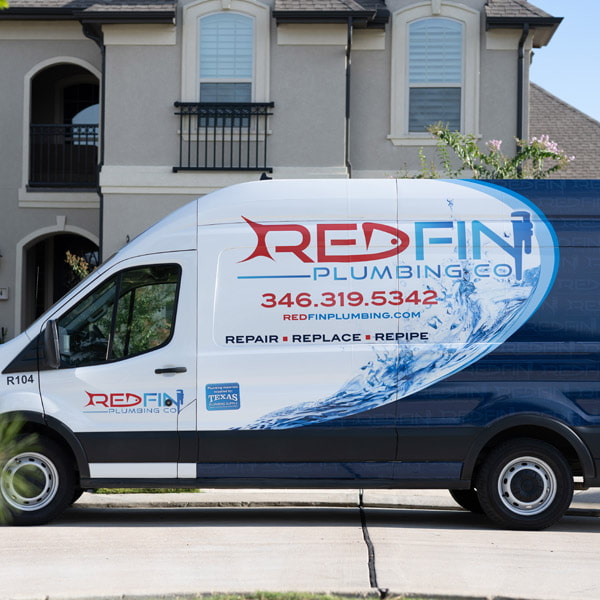 Gas vs. Electric Water Heaters:
Both gas and electric water heaters do the same thing: Heat the water in your home. However, there are many differences in how they operate. Differences between gas and electric water heaters include their power source, parts, installation requirements, performance, and operating costs. It is necessary to approach each water heater component, be it gas or electric, with safety, care, and attention to detail.
Both gas and electric water heaters have their advantages and disadvantages. While the argument over which is better comes down to personal preferences, you certainly need to consider which will work better for you when addressing your water heater problems. For example, both types have vastly different installation requirements. Suppose you're looking to replace one kind with the other. In that case, you'll need to factor in the extra cost of converting and accommodating your new water heater.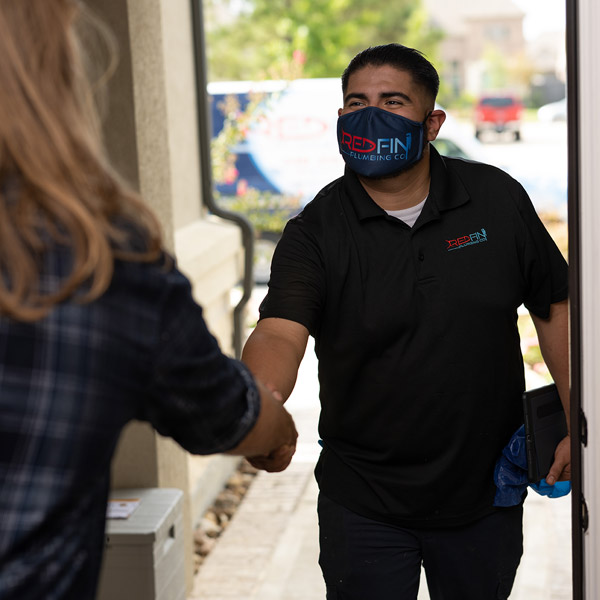 We Repair & Install Gas & Electric Water Heaters
Whether you own a gas or electric water heater, hiring experienced professionals knowledgeable about both kinds is crucial for the best quality repair, replacement, and maintenance. The professionals at Redfin Plumbing possess expert knowledge of both gas and electric water heaters. We are skilled in fixing, replacing, and maintaining both types by addressing their specific needs. We are committed to your water heater, home, and safety.
The technician/plumber came by to determine what was needed to replace our water heater which was leaking. He gave what I think was a fair price to replace our heater and install the new one. We determined a date and time for the replacement which was accomplished to my satisfaction. We have found a plumbing company (Redfin) that I would be more than happy to recommend to my friends.
Our plumber, Ulie was great. Also our Customer Service representative was great too. I would highly recommend using Redfin.
Thomas was fantastic. Very polite, punctual and fixed both issues we were having. Redfin was honest and up front with pricing and continuing to help with other issues found during the repair process. We will definitely use them again when and if needed
We've used Redfin twice for plumbing issues at our home and they have been wonderful to work with each time. After the recent winter storm they were honest, upfront, and communicated well to get our issues fixed. The staff is awesome and the work is top notch. We will continue to call Redfin for our plumbing needs!
Redfin is amazing, they came out the same day I had called them to give me a free consultation as well as repaired what ever I needed! They did everything in a timely manner and was extremely professional. I would 100% recommend them to anyone that needs their plumbing work done!
Had an awesome experience with Redfin! They had everything they needed and was able to repair my heater with one stop. Very knowledgeable and professional.
Great company to work with. Did what they said they were going to do, on time, very professional. I would definitely recommend them to anyone looking for a reputable plumbing company. They installed a water heater, repaired a line and installed emergency turn off valves.
Redfiin installed an exterior natural gas line to our outdoor generator. The work by Eddie was very professional, and the folks at Redfin were easy to work with for scheduling an estimate and the work itself. Maybe not the cheapest out there, but it's worth the extra to make sure it's done right. Would work with them again!
Eddie was very professional. He identified and fixed my problem quickly and did a good job explaining to me the root cause of the issue and how to avoid it again in the future. I would definitely recommend and use him again.
Thomas was extremely polite and professional. He took care of a really messy pipe clog for me! Also they had a great special on unclogging drain pipes. Highly recommend this company.
Had them install a new composite granite kitchen sink, disposal, and faucet. Very professional and fully informed me of all potential issues and costs prior to any work starting. Eddy and Thomas were both very professional in their trade skills and their actions. I would definitely use Redfin Plumbing again.
These guys are great! They took care of our hot water heater after the freeze. They are quick, professional, on-time, and reliable. Recommend.
Great people and great service at Red Fin Plumbing. They were very honest with the work that needed to be done. I highly recommend them. Great experience all around.
David and his team did an awesome job repiping my home after the Houston freeze. He was always on time and took the time to explain everything he was doing. Kenda, who works in the office, was beyond professional and always responded to my calls and emails quickly. I would highly recommend Redfin for all your plumbing needs. Hats off to Redfin!!
We Have What It Takes to Solve Your Plumbing Problems